Zoom the image with the mouse
Tissot Le Locle Powematic 80 Automatic Watch For Men - T006.407.36.263.00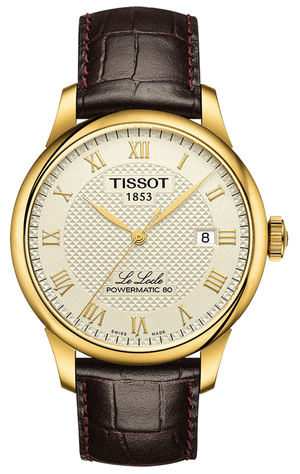 The name Le Locle seems to be a reliable ingredient of success. As well as being the name of Tissot's home and heritage, nestled in the Swiss Jura Mountains, it is the name of a hugely popular automatic watch family. The models display exquisite elegance with details such as Roman numerals and a traditional Le Locle signature which complete the picture of classical chic. 
BASIC FEATURES
| | |
| --- | --- |
| Brand | TISSOT |
| Collection | T-CLASSIC |
| Subcollection | LE LOCLE AUTOMATIC |
| Model | 0064073626300 |
| Warranty | 2 years |
| Color | brown |
| Movement | automatic Powermatic 80 |
| Water resistance | 30M/3ATM |
| Crystal | sapphire |
| Digits on the dial | Roman |
| Gender | men's |
| Type | analog |
| Caliber | POWERMATIC 80.111 |
| Weight | 67 g |
DETAILED DESCRIPTION
Case material: stainless steel
Stainless steel 316L (Stainless Steel) is a very durable material that theoretically can not be destroyed. It is hard (non-bendable and non-crackable), color stable, antiallergic (does not react with body fluids and therefore no metal components are not released into the skin and flesh) and has anticorrosive surface (the surface is resistant to oxidation and corrosion. Moreover, it is also resistant to fresh and salt water).
Movement: automatic Powermatic 80
Automatic watches with Powermatic 80 technology are powered by mechanical movement. They work on the principle of gradual opening of coiled springs. The energy of natural hand movements is transmitted through the rotor winding system, while wearing the watches, which automatically tightens the spring. Power reserve is up to 80 hours.
Strap material: leather
Leather is one of the most popular materials used in the manufacturing of Precision straps. It looks elegant, feels warm, and easily adapts to the wrist.
Date - the day of the month
Displays the current day of the month period from 1 to 31 December.
Water resistance: 30M/3ATM
Watches marked with water tightness 30M/3ATM are designed for incidental contact with water (car wash, rain). 30M/3ATM indicates the degree of water resistance standardized by ISO 2281. ISO tests include temperature changes, depth, pressure (water and air) for different times under rest during manipulation with the operative part of the watch.
Crystal: sapphire
Sapphire glass in the watch was made in a laboratory by melting aluminium oxide (Al2O3) in the presence of hydrogen and oxygen at 2000 °C. After crystallisation into the corundum 'pear', it's cut and further processed into the desired shape and size. Sapphire glass is the hardest glass used in watches. It would be second behind diamond on the scale of mineral hardness, so it can only scratched by diamond. Its only disadvantage is its fragility.
Closure type: Butterfly Deployment Clasp
This is closing in which the buckle closes reliably on two sides. It resembles the shape of a butterfly after opening. During accidental opening, the watch stays on the hand.